the babys finally here- =]
@ 12:16 pm-
hipnatizd
couldn't shut up
Permalink
jesus - i am tired.. lol ive been pretty busy lately.. trying to get baby stuff ready lots of sewing going on between me n my mom.. lol so far ive made a canopy a dust ruffle a curtain a crib bumper a thinggy to hide the side of the sheet- so it would blend in- a crib caddy.. and ummm we drew a treasure map with a peter pan kinda twist.. its very cute.. anyways- between all that and dr.s apts and oh yeah im now finished with P.T so i have 2 less apts. a week- but startin may 1st i have a dr's apt once a week- so they give me 2 days back and take one- but itll be easier bcuz on some weeks i was having 3 or even 4 apts between the dr - nurse- and PT - blah it gets complicated - anyways Amber, everytime i think to call u theres some reason i cant- but i was going to call and check on u cuz i havent heard from you- but i see ya tagged me so thats the next best thing- ugh i need to cut my monster nails bcuz im having trouble typing- plus they look seriously ghetto lol anyways i gotta go almost time to eat.... ... again lol
@ 07:56 pm-
hipnatizd
couldn't shut up
Permalink
Had my ultrasound today- the baby weighs a big ole' 3lbs.. (thats large) lol the dr. says he should probably weigh about 8 when hes born. blah blah- anyways ill have to get the pix scanned - i dont have much to say so ima go.. just wanted u guys to know
@ 11:11 pm-
hipnatizd
couldn't shut up
Permalink
LOL yeah i had P.T today- i did pretty good .. my hips not hurting legs are a little tired but they feel better but still have energy in them like i need to run lol - dont worry i dont plan on running anywhere. but im happy that my hips not hurting and my legs feel like theyre back in place lol... anyways now i feel like i could smash small buildings with my man legs lol (joke) anyways i had a busy day so far- trying to rest now. Only i feel like i have a lot left to do.. but i think im pretty much finished for the day.. maybe pack a little more tonight- but other than that i think im ok..
anyways, ill ttyl
@ 02:32 pm-
hipnatizd
couldn't shut up
Permalink
Just got home from pys. ther. and my legs are TIRED lol.. anyways i told amber yesterday that id take belly pix for her.. since she asked so here u go amber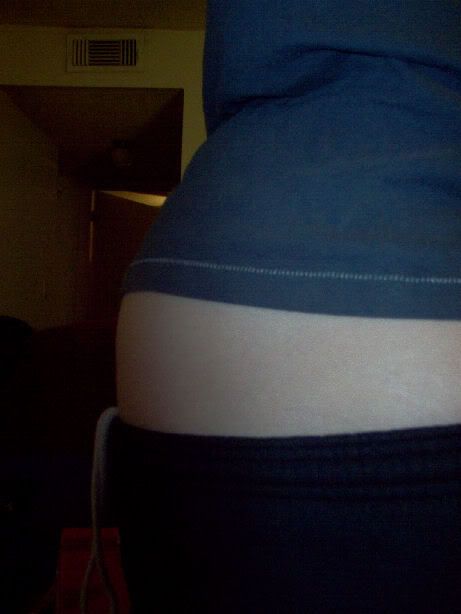 @ 11:22 am-
hipnatizd
couldn't shut up
Permalink
Hey everybody- i'm not real sure where to start - ive been doing ok lately just kinda tired i guess.. me n martin spent most of sat. together- we had break. at ihop then went to walmart and to b&n.. he bought me a book yay.! oh and a pretty blue shirt too. lol anyawys later that evening i had to go over to cj's cuz he came down from virginia to see everybody n his parents had (of course) a party so that he could see everybody before he had to leave.. anyways.. today i woke up n martin was gone-to play golf with his dad.. i sat home n kinda bummed around mostly.. cleaned a bit - read a little.. played wow for about an hour.. he came home n i neede to come out to moms to pick up some baby clothes that my cousin Carla sent me.. so i told him bye n off i went.. well i stopped at the sonic by my rents cuz i was STARVING n was in serious need of cheese stix lol - i eat them n goto start the truck and it wont start.. it doesnt turn over.. it sounds like it wants to it just doesnt.. so i call my dad to come see.. and then martin to explain.. so my dad comes and we figure out what it is.. he gets it started and drives it here (my rents) with me and my mom following in his truck.. well we have to get a new part- bcuz something locked up n ya da ya da.. confussing when ur day hasnt worked out like ud hope yanno.. anyways, so- i explain everything to martin- and we decide ill stay the night out here- and we'll deal with it tomorrow.. but i dont feel like ive gotten to see him enough- and he starts a weird schedule tomorrow - so itll be more time i dont get to see him.. hooooooooohummmm.. lol i just want my book and my bf .. is that too much to ask.?! well i didnt think it was- guess i was wrong.. lol
So anyways.. ive been thinking about the 'sony/martin wedding' lately.. lol and so far this is the dress i want.!!!!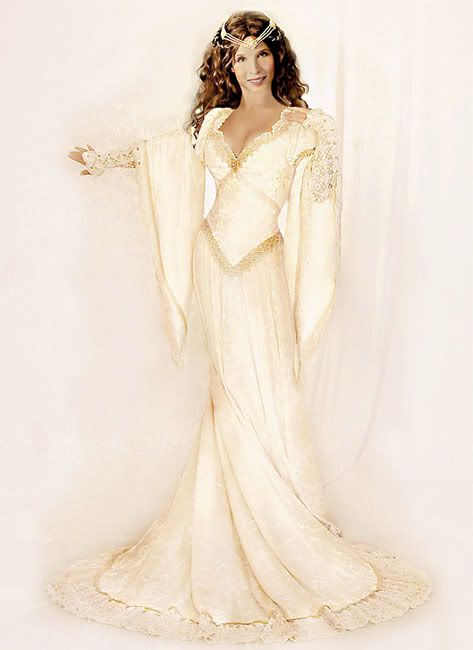 sorry that the model looks ... weird.. i think it may be a manicane (spelling) with a really good wig .. cuz ive never seen a real person look so... fake lol anyways- lemme know what u guys think about it.. bye
@ 10:04 pm-
hipnatizd
couldn't shut up
Permalink




Here's the thumbnails- click em to see em bigger lol... if u cant tell what they are- look harder.. lol
@ 08:31 pm-
hipnatizd
couldn't shut up
Permalink